Our Own SignaturePDF — Awesome Open Source

You know that feeling when they send you a PDF to sign? "Simply print, sign and scan!" Or the more sophisticated ones, "Sign it digitally in our partner's secure signing system!"
Well, thanks to this awesome open source SignaturePDF, created by 24eme.fr, now we can sign a PDF file digitally, in our own home network.
Here it is running in my private network. I installed it inside YUNoHost, which is nice and easy. We start by uploading a PDF file: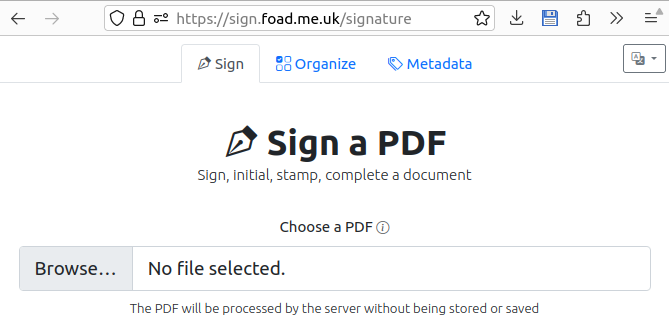 Then we add our signature (draw it, type it, or upload an image) and other annotations: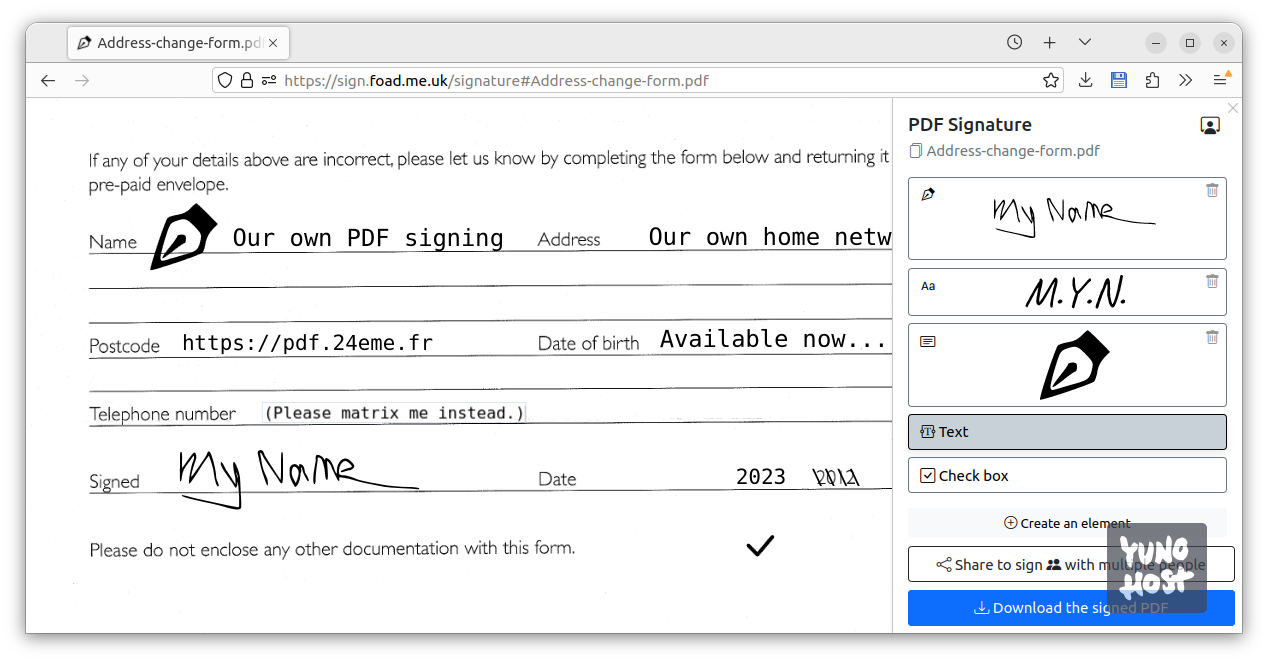 Then either we download it, or we share a link for other people to add their signatures:
SignaturePDF supports not only signing but more: organising pages (rotate, delete, etc.), editing the embedded metadata (author, title, etc.) and (in development) compressing a PDF file.
I have been running SignaturePDF since I heard of it a few months ago. It was already very neat, both useful and pleasant. Until recently the interface was only in French, which was OK for me, but now they have made it localisable and added an English translation. That, and seeing it grow new features like the sharing and the page organiser, while maintaining simplicity and quality, are the reasons I decided to blog and recommend it to you now.
Try it on their site — SignaturePDF — and then self-host it!
---
#awesomeFOSS #selfHosted #yunohost
---
Follow/Feedback/Contact: RSS feed · Fedi follow this blog: @julian​@wrily.foad.me.uk · use the Cactus Comments box above · matrix me · Fedi follow me · email me · julian.foad.me.uk Donate: via Liberapay All posts © Julian Foad and licensed CC-BY-ND except quotes, translations, or where stated otherwise